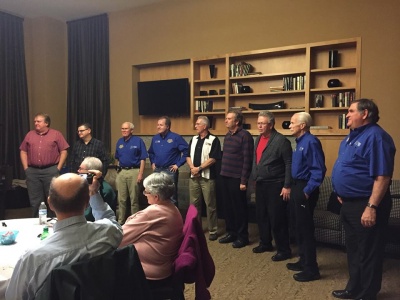 2016 Beehive Statesmen Installation Banquet...a Great Success!
The Beehive Statesmen Chorus, a local chapter of the Barbershop Harmony Society, recently held their annual installation banquet of the 2016 Board on January 6, 2016 held in Downtown Salt Lake City at City Creek Commons.  Each new officer pledged their commitment to uphold the resonsibilites of their office, to  promote Barbershop Harmony with it's brotherhood, keeping in tradition of the Barbershop Harmony Society.  
The evening was enjoyed with many of the spouses and significant others, with special tribute given to them for their unwavering support...and KICKING them out of the house once a week for rehearsal!  A great catered dinner was enjoyed by all, along with piano entertainment  provided by Neil Petty, a friend of the chorus.  As a conclusion to the entertainment a beautiful rendition of "Some Where Over The Rainbow" was given with a very thought provoking personal experience with this song.  Of course no Barbershop gathering is complete with out some singing... A Chapter Quartet " 4th Street" shared their favorite song with guests...Mamselle.  All chapter members joined in singing  a concluding number..."Heart of My Heart" in great 4 part Harmony.
As a matter of business... the Barbershopper of the Year was given to Blake Ostler, joining the ranks of many men starting in the year of 1955 when The Beehive Statesmen Chapter was organized to receive that award.
 
Newly elected Board Members, (left to right)  Paul Barlow ( Chapter Development  VP),
Doug Jones,  (Current President), Bruce Winters (Chapter Secretary), Scott Allred (Chapter Treasurer), Gene Miner ( President Elect), Ryan Riches ( Member at large),  Blake Ostler ( Music & Progrmam VP),  
Bill Tatomer (Member at large), John Close Marketing & PR VP,  
It was a great start, looking forward to a great year!  As always... the Beehive Statesmen are always looking for a FEW GOOD MEN... who love to sing!