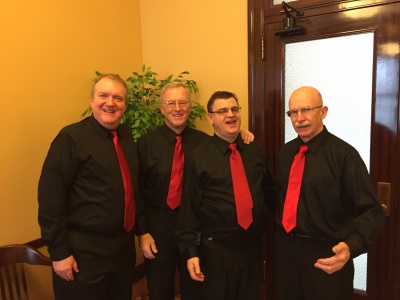 4 th Street Quartet
4th Street,  a quartet named for a street… how original.
Paul Barlow Tenor, Doug Jones Lead, Lee Taylor Baritone, and Jim Gallagher Bass,
This Quartet of Barbershoppers have been singing together for quite a few years.
Paul Is the Assistant Director for the Beehive Statesmen and has been singing Barbershop for over 24 years
Doug  is the Newest member of the Barbershop Community having only been singing with the Beehive Statesmen for a mere 21 years.
Lee,  is a member of both The Beehive Statesmen, and the Utah Valley Chapter, and has been singing Barbershop since they invented Dirt.
Jim,  Well Jim is the consummate Bass having been singing Barbershop since before they invented dirt.
Together they just love to perform for audiences, and have performed in at least 3 states.
we would love to sing at your event, to enquire about hiring them.
Contact Doug Jones:  [email protected]  mention 4th street.